<

/

National Coding Week 2020 – making coding accessible at all levels

>

The Institute of Coding (IoC) is once again celebrating National Coding Week, a volunteer-led event founded in 2014 that aims to help build people's confidence and skills through fun and engaging digital events. Although some of the events and teaching look a little different this year due to COVID-19, it's still possible to get involved.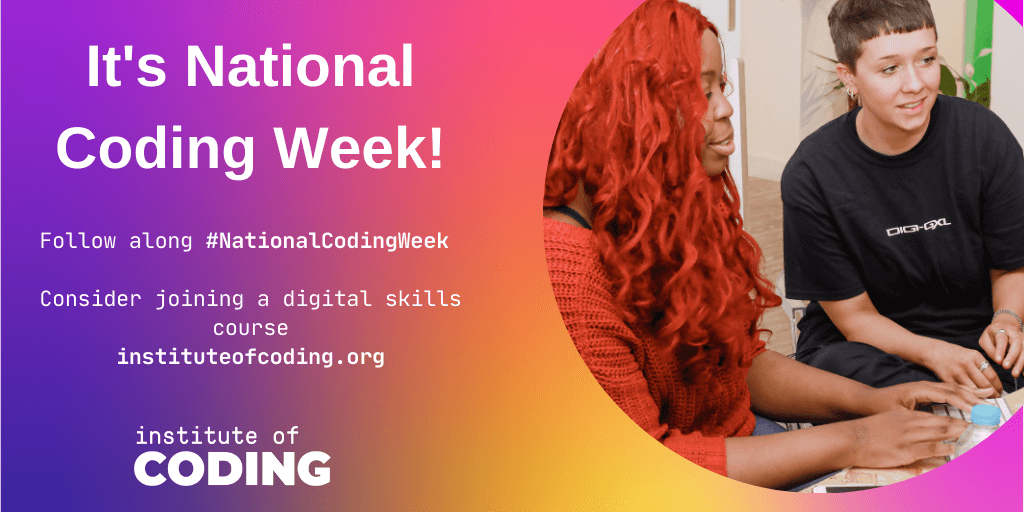 It's clear from our recent influx of enrolments that online education is a popular option for today's learners. Creating opportunities for everyone to access digital skills education is an important part of the IoC's mission to encourage a wider and more diverse group of learners to pursue digital careers. Short, flexible online education is one of the ways to achieve this, and we've seen improved diversity on our partners' collections of short digital skills courses.
From our work with our network of more than 200 employers, we know that that coding and other digital skills are in high demand, particularly because they can be applied in many different fields. As 82% of all job listings now ask for digital skills, it's never been more important to upskill. So, how can you learn to code online?
Getting started for FREE
For people who are new to coding and other digital skills, our range of online courses created by the University of Leeds, FutureLearn and industry partners is a great place to start. In the Digital Skills for the Workplace collection, you can find courses like 'Computer Programming for Everyone' and 'Learn to Code for the Web', which not only introduce you to coding fundamentals, but show you how to apply them in your career. If you would like to bundle your learning, consider taking the free, six-week 'Introduction to Coding and Design' programme that includes three key coding and design-related courses.
For those who enjoy merging coding with creativity, the University of the Arts London (UAL) and Lancaster University have developed online courses like 'Apply Creative Machine Learning' and 'Design a Feminist Chatbot'. Both involve learning basic coding and teach you how to utilise it in new and exciting ways. If you're also interested in using coding for social good, the 'Create Accessible Interfaces' course teaches you how to program interfaces that work for everyone, no matter their ability.
All the courses listed above are FREE and available now. Certificates of Achievement will be provided upon successful completion of the course or programme at no cost for the duration of 2020. These certificates can be shared with your employer or included on your CV to enhance your employability.
The Skills Toolkit
If you are interested in exploring more free courses, check out the Department for Education's online platform The Skills Toolkit. The Skills Toolkit gives access to free, high-quality digital and numeracy courses to help people build up their skills, progress in work and boost job prospects. It is open to everyone, whether they are out of work or thinking about changing jobs, have just graduated and are looking to start their career, or if they're just keen to keep their mind healthy and busy.
Get caught up with the IoCoding Club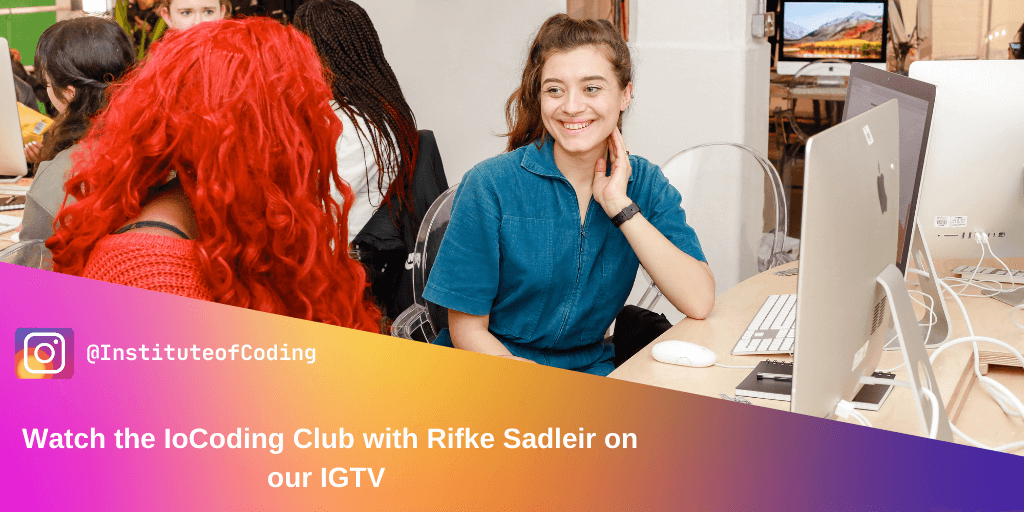 Did you know that we ran an exciting online coding club earlier this year with leading creative coder Rifke Sadleir? Those easy-to-follow sessions are still available on our IGTV. Head over to Instagram to view more!
Taking the next step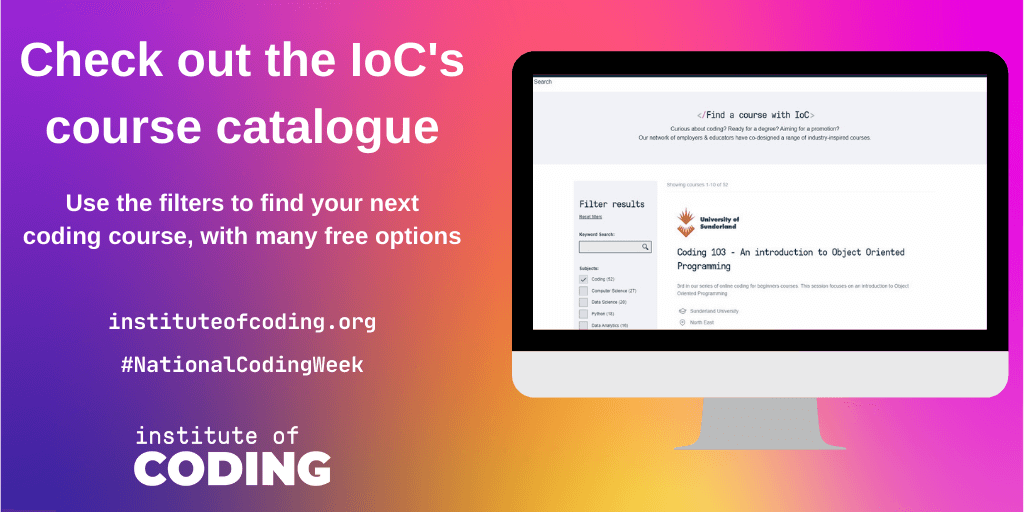 Exploring our course catalogue is a great way to find intermediate or expert-level courses in coding and you can use the filters to tailor the course listings to your needs. Many of the computer science, data science and artificial intelligence programs offered by our partners involve coding, but if you enjoyed the courses from UAL and Lancaster listed in the section above, consider UAL's BSc in Creative Computing, which equips you to work in a variety of roles within the digital and development industry.
More information
If you've been inspired by this blog, visit the National Coding Week website to find out how you can get involved. Information packs on how to run coding events are available for businesses, schools and individuals, or you can join the conversation about coding via their Twitter page. #nationalcodingweek
To find out more about the IoC's work, follow our Twitter and LinkedIn accounts, and sign up for our newsletter to stay updated on our work.