<

/

The IoC Skills Bootcamps

>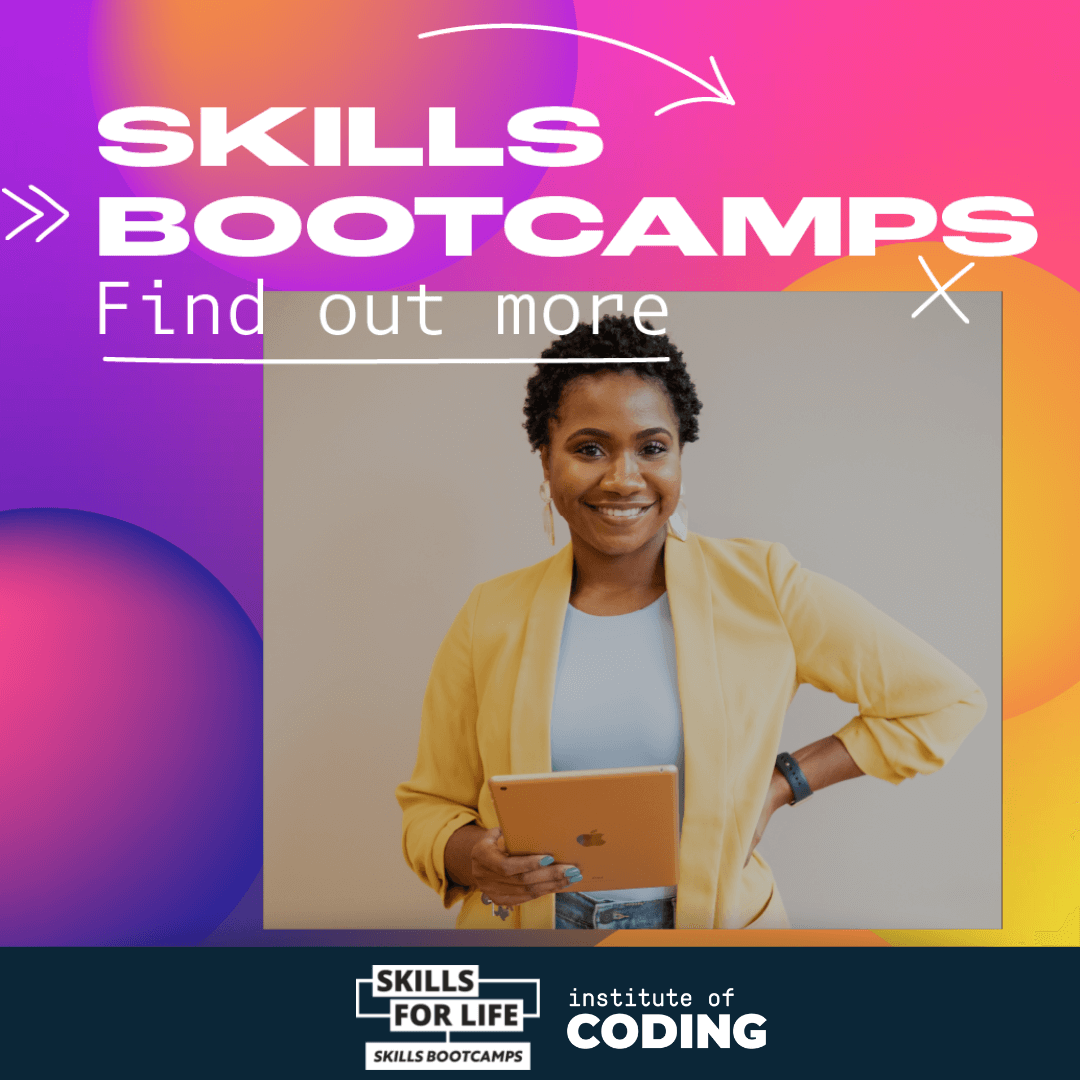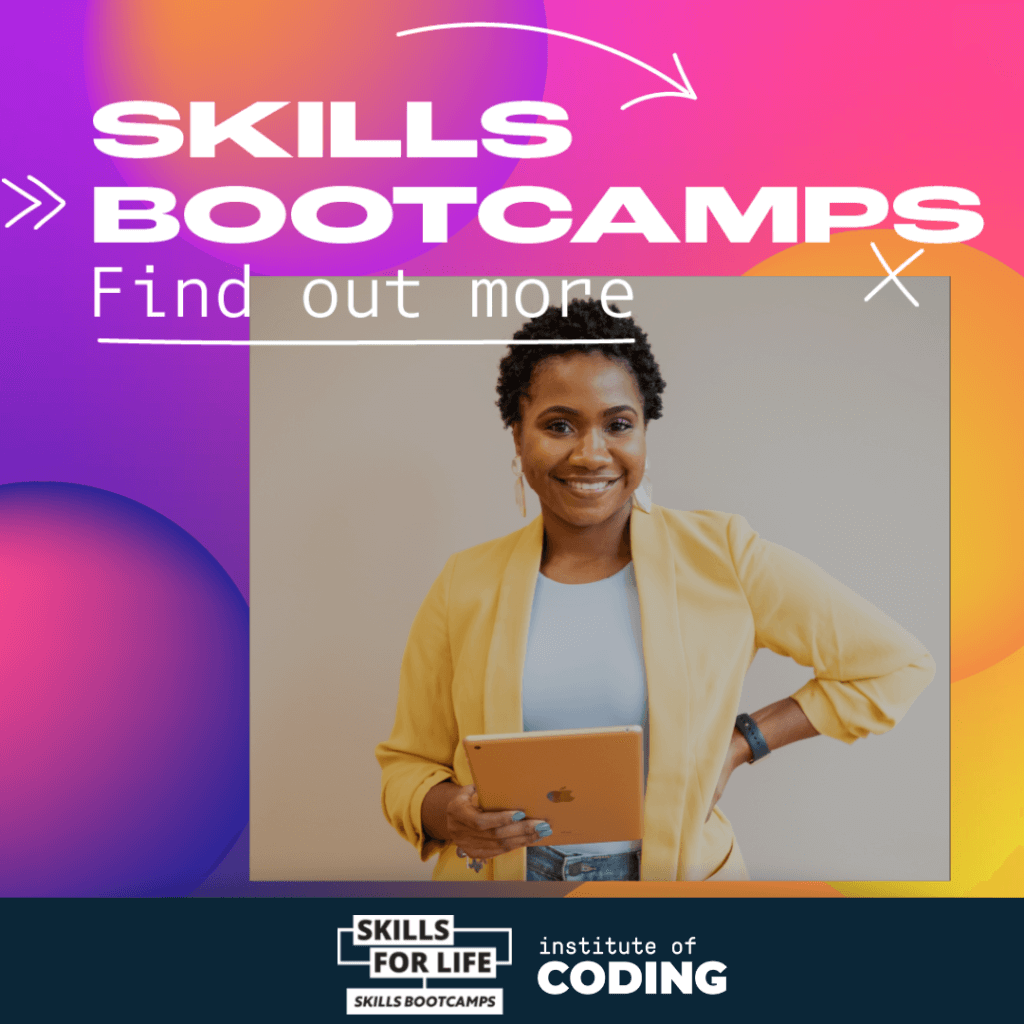 The IoC is working with partners to connect employers and learners through a series of nationwide Skills Bootcamps that give people the digital skills needed to take the first step into a tech career.
UPDATE: Many of our Skills Bootcamps are underway. We currently have several Skills Bootcamps open for registration and expressions of interest. We will be continuing to launch new Skills Bootcamps throughout the 2023. Please check our Skills Bootcamp course catalogue to see all available options and sign up below to receive an email when future programmes launch.
What are Skills Bootcamps?
Skills Bootcamps are flexible courses of up to 16 weeks that give people the opportunity to build up sector-specific skills and fast-track to an interview with a local employer. They are being developed as part of the Government's Lifetime Skills Guarantee, helping everyone gain skills for life.
They are designed for people who want to upskill quickly to work in specific tech-driven sectors (e.g. construction or web development) or for those who want to gain in-demand digital skills applicable to multiple areas (e.g. data science).
---
How much do they cost?
A single Skills Bootcamp (per person) will be provided at no cost for learners who meet the eligibility criteria and are accepted by a Skills Bootcamp provider onto a specific programme. Please see the Skills Bootcamp listings using the button below to view the eligibility requirements.
Please note – learners who qualify may only enroll on one Skills Bootcamp.
Employers who wish to upskill existing employees through the Skills Bootcamps will receive a 70% discount from standard programme fees. If you are an employer looking to upskill existing employees or hire Skills Bootcamp grads, please email ioc@bath.ac.uk to learn more.
---
How do I learn more or apply?
Detailed information about the IoC-led Skills Bootcamps, including course subjects, start/end dates and delivery style, is available on our Skills Bootcamp course catalogue. You can apply directly by clicking through the course listings.
To learn more, please read our Skills Bootcamps flyer below.
You can also sign up to receive updates on upcoming Skills Bootcamps by signing up here.
---
Calling all employers – hire from this pipeline of skilled talent!
We are training diverse talent through the Skills Bootcamps and many participants already have a degree or graduate degree. Cohorts are graduating throughout 2023 and will be looking for employment at the completion of their Skills Bootcamp.
If you would like to learn more and hire from this skilled talent pool, please email ioc@bath.ac.uk. A specialised team is standing by to help match employers with qualified candidates for their specific needs. This service is provided at no charge.
Skills taught over the IoC-led, tech-focussed Skills Bootcamps include core digital skills, data analytics, cloud computing, software development, DevsOps, data science, machine learning / AI, web development, cyber security, and others.
---
About us
The Institute of Coding's (IoC) consortium of employers, universities and outreach partners, which is led by the University of Bath, is a provider for the Department for Education's (DfE) Skills Bootcamps. This means that our partners are delivering new Skills Bootcamps that will connect people into employment.

/

Prospective learners

Sign up to learn more about future Skills Bootcamps

We are continuing to deliver a number of Skills Bootcamps and are working to launch new and exciting digital skills courses.

Please register for course updates using this form.
"*" indicates required fields
/

Employers

Using its collaborative approach, the IoC is bringing together partners with delivery and engagement expertise to ensure that each step of the Skills Bootcamp journey is high-quality and tailored to meet the needs of employers and those looking to upskill to boost their employability.

If you are an employer and would like to learn more about the Skills Bootcamps, including potentially interviewing or hiring these skilled learners, please register your interest by emailing ioc@bath.ac.uk.
<

/

Skills Bootcamp partners

>

The IoC-led Skills Bootcamps are being coordinated and delivered by respected UK universities, including Aston University, Bath Spa University, the University of Bath, Birmingham City University, Durham University, Edge Hill University, the University of Gloucestershire, the University of Huddersfield, Manchester Metropolitan University, Northumbria University, the Open University, Teesside University, and Coventry University..

The programme is also supported by the IoC's engagement partners (e.g. DWP Jobcentres), pathway to work collaborators who are building infrastructure to support the programme's data flow and reporting, measuring enrolment across the UK and promoting Skills Bootcamps and its graduates among their client network – as well as techUK, combined authorities, and LEPs), alongside the IoC's existing network and consortium.

Skills Bootcamps in the South West region will be provided in close collaboration with the West of England Combined Authority (WECA), Swindon & Wiltshire local enterprise partnership (LEP) and the GFirst LEP (based in Gloucestershire).