<

/

First of its kind Master's programme to spur next generation of vehicles

>

A first of its kind Master's course developed jointly by Coventry University and HORIBA MIRA is expected to drive the next generation of connected autonomous vehicles (CAV) development.

Coventry University's Institute of Coding (IoC) and HORIBA MIRA have designed the ground-breaking Connected Autonomous Vehicle Systems (CAVS) MSc course to address a shortfall in the number of university graduates skilled in autonomous vehicle software development and deployment.

Coventry University's IoC is part of a national Office for Students (OfS) initiative, made up of 33 Higher Education Institute partners and over 100 industry partners to develop the next generation of digital talent at degree level and above.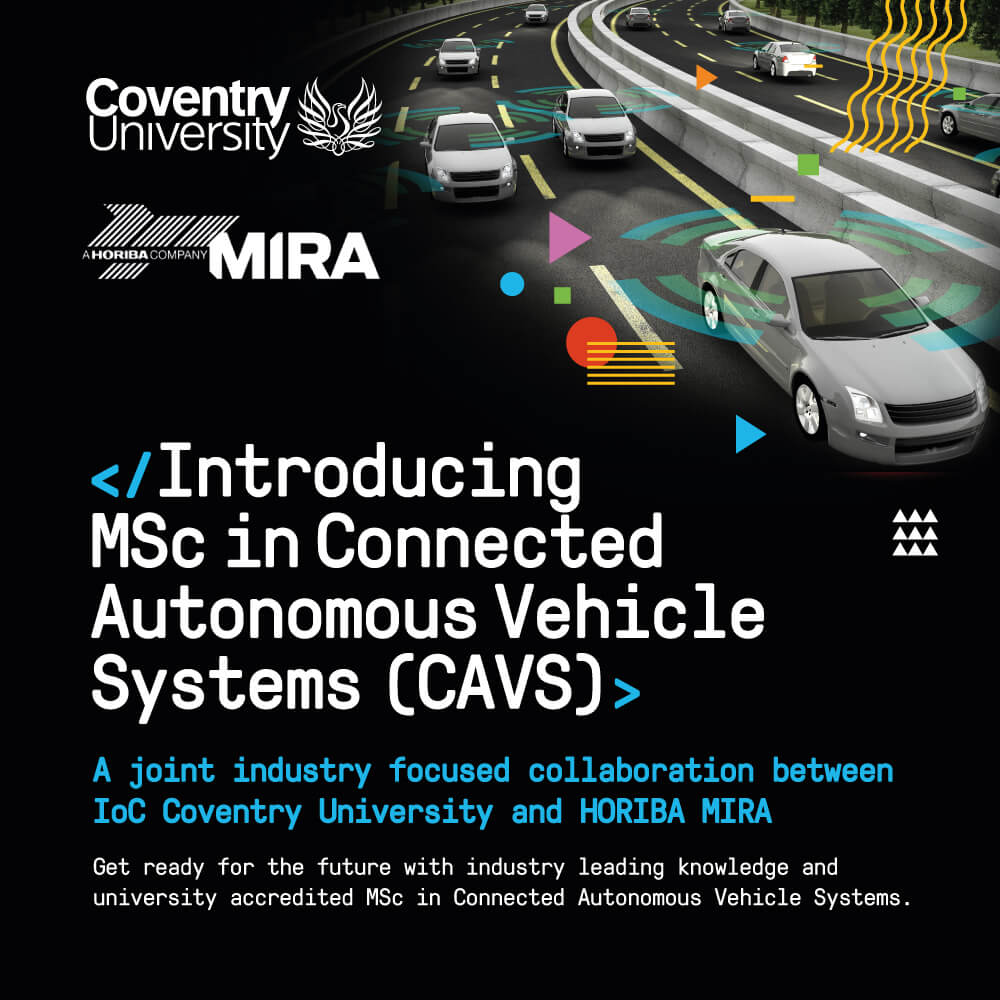 Not only has the CAVS MSc been developed in collaboration with HORIBA MIRA, the engineering, research and test services provider will also be delivering part of the course – making it the first of its kind anywhere in the UK.
The Master's level programme is designed to provide students from software engineering, computer science and other similar backgrounds with the required critical skills to produce robust and safe Advanced Driver Automation Systems (ADAS) for use in CAV applications.
It covers topics such as sensor fusion, localisation, planning, communications and human interaction. A special focus will also be paid to safety, cybersecurity, testing and validation of CAVs, with these topics delivered by industrial partner HORIBA MIRA in order to ensure their real-world relevance.
There is a strong emphasis on preparing students for their first professional position and future careers. Between them, Coventry University and HORIBA MIRA boast a range of industrial and strategic partnerships which is expected to benefit greatly to the overall learning experience.
Deepak Farmah, IoC Business Development Manager, said: "The automotive sector is witnessing rapid development and CAVS will be at the heart of the next generation of vehicles.
"The IoC at Coventry University and HORIBA MIRA have tailored a programme that blends emerging technologies with practical application and an ability to critically determine advantages and limitations of current and emerging practice.
"The CAVS MSc course encourages students to push the boundaries of software development, contribute to CAV sustainability and ensure the current and future safeguarding of society in line with the work of the Centre for Connected Autonomous Vehicles (CCAV)."
The MSc course sits within the School of Computing, Electronics and Mathematics at Coventry University. Teaching will be split between Coventry University and HORIBA MIRA staff and will take place at the MIRA Technology Institute in Nuneaton.
---
This article has been cross-posted from the Mira Technology Institute website. You can read the original article here.