<

/

Coventry Institute of Coding recognised for excellence in education

>

Coventry – 13th December, 2019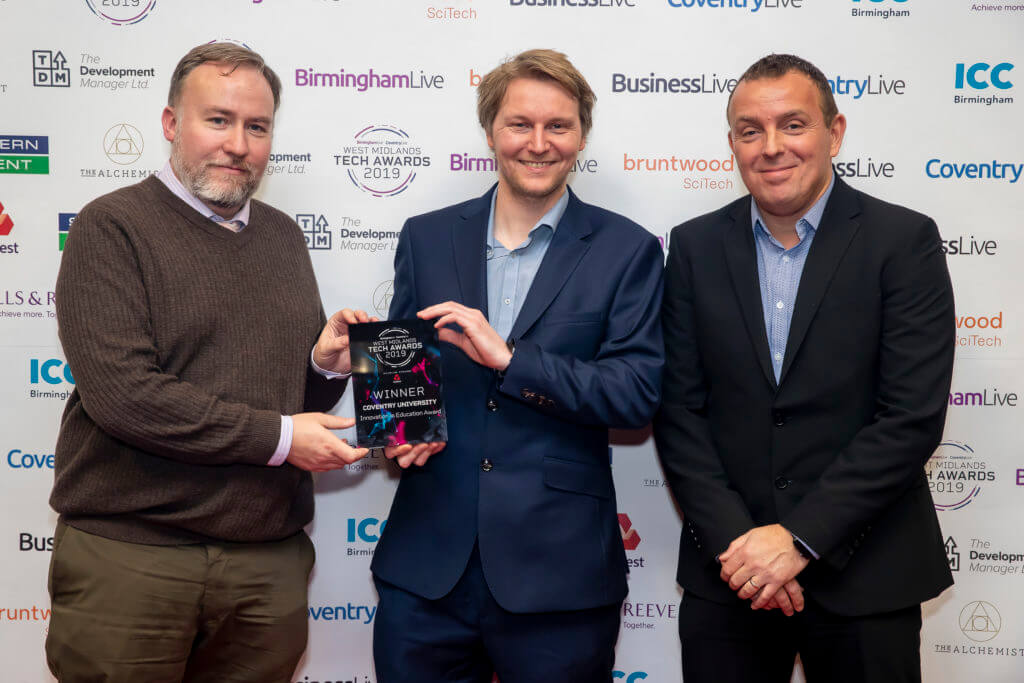 A Coventry University initiative which delivers digital skills training has been recognised for its excellence in education at the West Midlands Tech Awards.
The Coventry Institute of Coding (IoC) received the Innovation in Education award which recognises individuals or organisations using cutting edge digital approaches to enhance or even revolutionise the learning experience in schools, colleges and universities.
The accolade was presented to the IoC at a ceremony at the International Convention Centre in Birmingham.
Coventry's IoC is part of a national Office for Students (OfS) initiative, made up of 33 Higher Education Institute partners and over 100 industry partners to develop the next generation of digital talent at degree level and above.
Coventry University is a national lead in "Digitising the Professions", which addresses the digital skills need in industry sectors in light of the digital revolution. Coventry IoC's training aims to improve digital literacy and support students seeking a career in the digital economy.
James Shuttleworth, Principal Lecturer in Cybersecurity at Coventry University and Programme Director at IoC, was on hand to receive the prestigious Innovation in Education prize at the ceremony.
James said: "We are thrilled to have received the award for Innovation in Education. Everyone at the IoC is really passionate about the work we are doing at Coventry University and it's great to have been recognised by the judging panel."
Shuttleworth believes the award comes at what is a pivotal time for the digital skills sector.
"The development of frontier technologies such as artificial intelligence, virtual reality and data analytics are already starting to influence jobs. These skills are becoming increasingly important and we are committed to delivering training that prepares people for the digital revolution.
"The West Midlands has some of the lowest levels of productivity in the country. It is also true that people from disadvantaged backgrounds are less likely to have access to digital skills.
"We want to transform the region by collaborating with industry partners in sectors such as automotive and engineering, healthcare, and creative. We also want to work with people from a range of backgrounds to prepare them for the digital revolution."
---
For more information about the IoC visit https://instituteofcoding.org/