<

/

An employer's perspective on the IoC's TechUPWomen programme

>

TechUPWomen is an Institute of Coding (IoC) funded, award-winning programme that has retrained 100 women with digital skills. Led by Durham University, Edge Hill University, the University of Nottingham and the University of York, the programme trained a diverse group of women, with 54% of participants being women of colour, 46% having a disability and 40% having a dependant, to have the skills required by employers.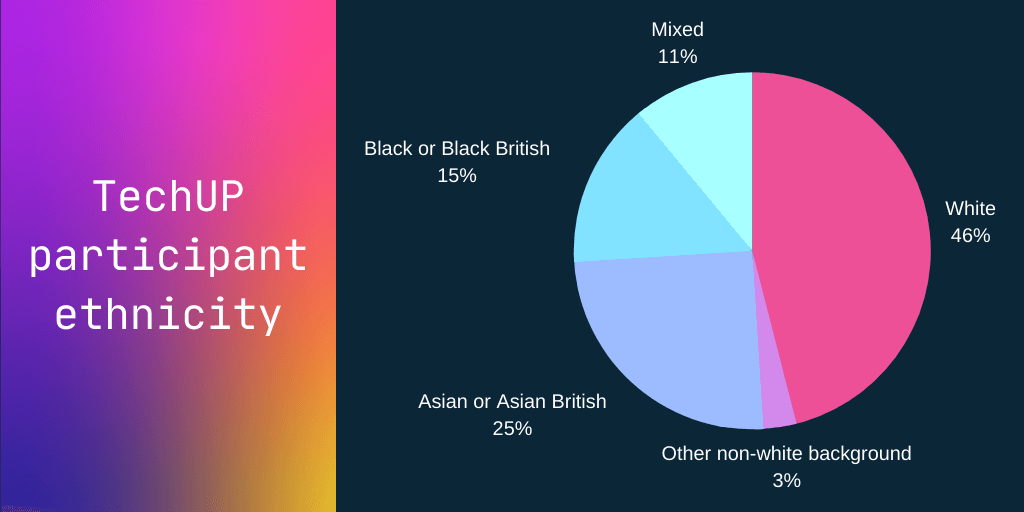 In the case study below, we hear from one of TechUPWomen's founding industry partners, MSP, about their support for the pilot TechUPWomen cohort and the benefits their organisation has seen from its participation. As part of their involvement in the programme, MSP, along with the other 16 industry partners, advised on curriculum content, offered mentors, attended and spoke at four residential weekends, and interviewed a number of participants for a software engineer role.
Marianne Whitfield, Director of Development at MSP told us her story.
"Just before Christmas 2018, I was approached by Durham University about a new programme they were hoping to run to help women retrain into tech careers. As a long-term advocate for women in tech, and having recently taken on a new role heading up an all-male team of 25 software developers, I was more than keen to get involved.
Fast forward to January 2020, and I was privileged to attend a ceremony where 100 dedicated, driven and utterly inspiring women graduated as the first ever cohort of the TechUPWomen project.
The TechUPWomen programme is one of a kind. MSP signed up as industry partners for the first cohort on the full understanding that this was a pilot programme. We had no preconceived ideas of what the outcome would be – only that we were willing to support any attempt to encourage more women into tech careers.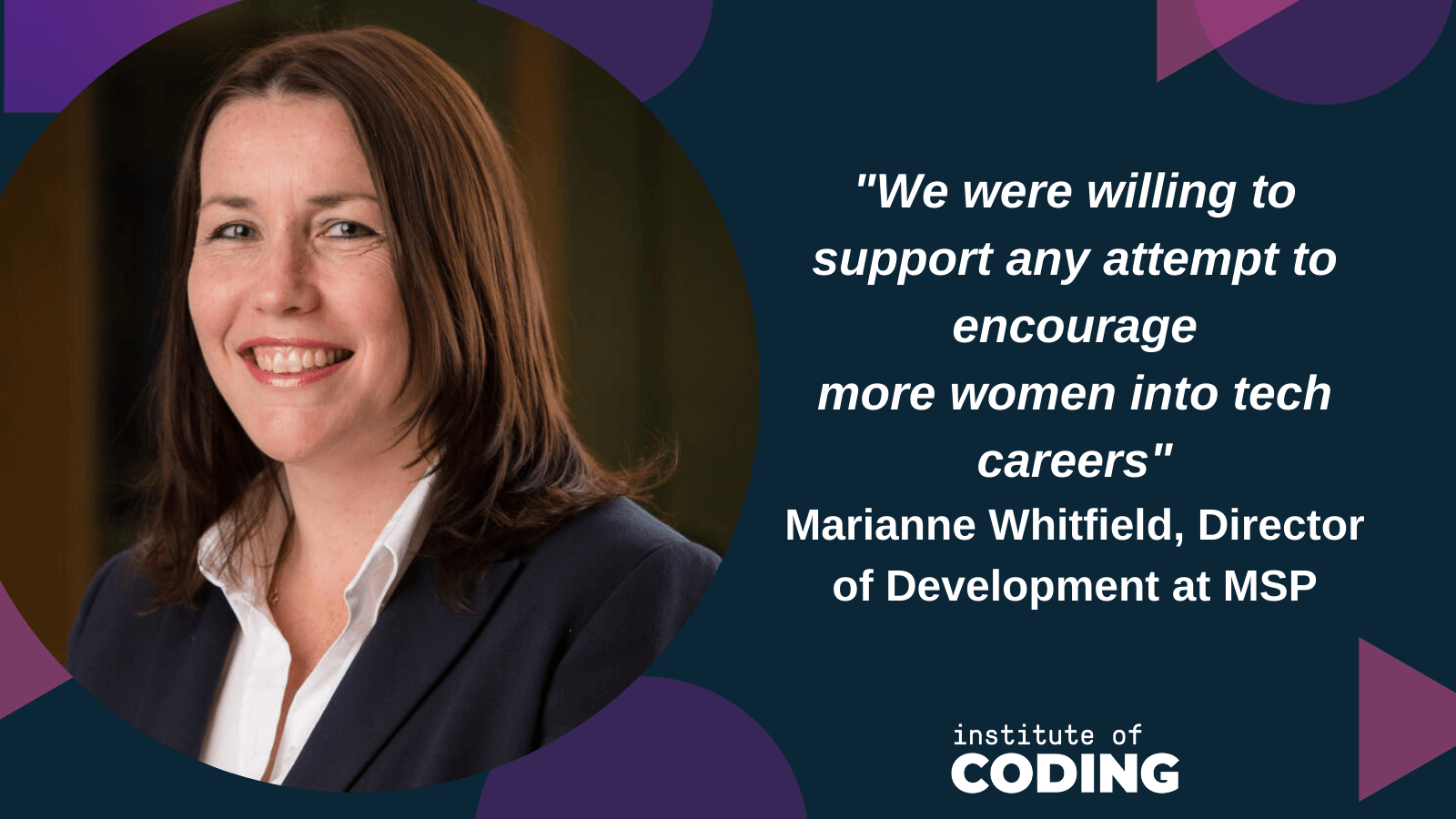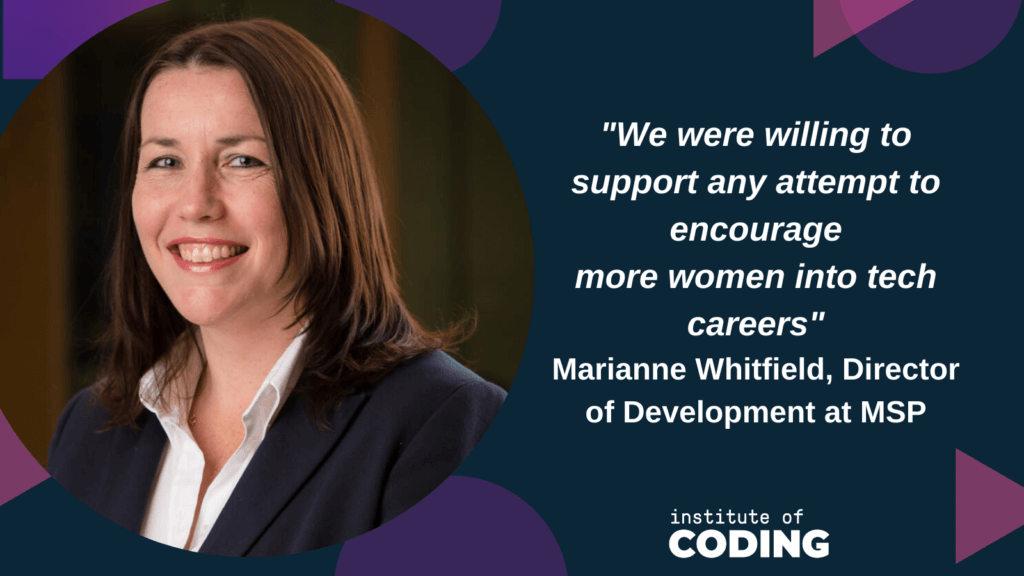 The programme started with a residential at Durham University. MSP was one of only three industry partners in attendance, but it was invaluable to be part of the two-day event – meeting the participants, feeling their nervousness, and realising what a life-changing experience this was going to be for everyone involved. There were 100 women in the room, all ready to make a change, and all ready to support each other throughout the process.
MSP's attendance at all four residentials gave us a unique insight into each of the participants on the programme. It was like conducting a 6-month long interview with 100 people at once, and we had plenty of opportunity to talk to the people who were genuinely interested in what we do, and were potentially best fitted to our organisation. The residentials were full of useful and motivational seminars and presentations that our team were able to benefit from too. During the residentials we had the opportunity to present MSP and what we do to the full cohort of participants. As active industry partners, we were also invited to speak about our experience running a tech-based company, and the highs and lows of working in tech careers.
The one-to-one mentoring that is attached to the TechUP programme was a fantastic opportunity for our staff to develop their own skills. We asked for volunteers to mentor some of the participants as they worked through the TechUPWomen syllabus and those that did volunteer, found the experience to be very rewarding – both for them and their mentee.
TechUPWomen is an amazing programme that has changed the lives of so many people. But it also has the interests of the industry partners at its heart – involving us at every step of the way to create a programme that best suits the evolving needs of business and enterprise, whilst educating the participants in the most relevant technologies and career paths for the 21st century."
---
Projects like the TechUPWomen programme that combine the efforts of government, educators and employers are vital to welcoming a more diverse group of learners into digital education and careers. The IoC and its partners hope to continue these collaborations in the future, to ultimately address the growing digital skills shortage in the UK.
If you or your company are interested in partnering with the IoC, please email us at ioc@bath.ac.uk.
If you'd like to start your digital skills journey like the TechUPWomen participants, visit our course catalogue to find a wide range of courses.