<

/

Sheffield Startup Summer – How to create your own

>

Written by Dr Helen Barber, August 2020 (Senior Project Manager for IoC Sheffield)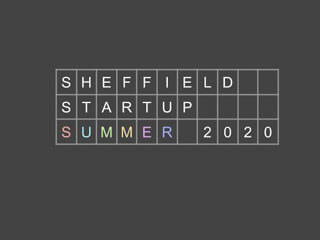 Introduction
The #Sheffieldstartupsummer2020 – a form of tech-for-good for students and graduates, ran for the 2nd year this June-July. Only, this time it was 100% digital.
Sheffield Startup Summer is a Student Enterprise event, open to 'any' student or recent graduate within Sheffield. It is run as part of the Institute of Coding (IoC), within the Department of Computer Science, at the University of Sheffield (TUoS).
In its first year in 2019, the Startup Summer was held in a physical location at Barclays Eagle Lab and Kollider, within the incubator space at Castle House, Sheffield. Participants were able to meet, socialise, build rapport, attend talks from industry, workshops, and collaborate and innovate in groups, with expert mentor input along the way.
Lean startup techniques are used to explore and develop ideas e.g. problem identification, hypothesis testing, the build-measure-learn cycle, building MVPs, demonstrations and pitches. The 2019 pitches ranged from a powered articulated arm sleeve to a portal for overseas students seeking UK accommodation.
After successful feedback from last year, Andrew Stratton, our organiser and host, knew the need for such an experience would be intensified during lockdown. But, how to provide a successful, free, 100% digital format for interdisciplinary students / graduates?
A flurry of activity ensued. With Andy's contacts, experience and know-how, he pulled together a strong program for Sheffield related participants – located across the globe in various lockdown situations, to register on. Colleagues and contacts were happy to be involved, and their input was greatly appreciated.
What is Tech-for-good?
#techforgood is a movement about intentionally using tech to tackle the world's pressing social and environmental challenges. It can use code, AI, IoT or other forms of tech, to create impactful solutions through specific focus. The largest #techforgood is the 'call for code'. This was created by David Clark Cause, with founding partner IBM, in partnership with the United Nations Human Rights and the Linux Foundation.
Our event kicked off with a focus on IBM's 'Call for Code Challenges' – climate changes and Covid 19.
Why we wanted to do this
Innovation is one of the five types of Student Enterprise engagements that we have previously identified. Specifically, there is increasing interest in Digital Innovation.
At TUoS and the IoC, we are committed to knowledge exchange between students and industry, including our local and regional digital networks. TUoS was founded on civic principles and we signed the civic university agreement, due to continued commitment.
Participants receive exceptional learning, employability skills, and inspiration from accomplished and seasoned industrial experts. In turn, any future entrepreneurial success e.g. through later incubation, can benefit the local economy. Employer recruitment can also be assisted, as participants develop the much needed softer skills e.g. collaborative experience and communication. Employers can potentially talent spot too.
Finally, we wish to disseminate what we did for our community of Higher Education Institutes (HEIs) within the IoC consortium, and beyond. Sharing the learning points here, and on our website www.studententerprise.org.uk .
How we did it
Advertised program through contacts and social media
66 interdisciplinary students (mostly engineering and law) registered online via google forms – there was a small drop out rate
Used Blackboard collaborate, in parallel with a slack channel
Participants were split into groups of ~6
A 'main room' held seminars and talks from industry and academic staff (20 videoed)
Breakout rooms were held for guided group work, workshops and team development. Google drive was used for developing team ideas and documents
Mentoring from experts from diverse fields
Polls and regular feedback forms were given, and queries were monitored in the slack channel and 'chat' sections. This enabled responsiveness and solutions
Initial pitch mentoring and short pitches to a panel of experts
Refined videoed pitches after further seminars, group work and mentoring
Post startup, funding of £1k per participant was available for pre/incubation of selected ideas by TUoS Enterprise Hub
Participants benefited from talks by senior and highly respected industrial partners e.g. senior inventor at IBM, director of Sheffield digital, The Floow, Assistive technology, Entrepreneurs in residence etc.
Participants worked on solutions relating to climate change and Covid19. Ideas included:
Specific and geographic recycling advice
International pandemic information network
Super smart homes / appliances
What we learned along the way
Feedback forms found participants valued mentors 'popping' into their different 'rooms' to offer encouragement, guidance, challenges and ideas
The format was popular with most attendees. A mixed delivery appears popular and will be considered for next year.
Making a visible draft plan available as early as feasible and permissions to use video/resources to be sorted beforehand next year.
Invitation to engage
We look forward to running Sheffield startup summer again, and a significant portion is likely to remain digital. We'd be delighted for others to join in delivery, or participation.
Aspects of the program will be uploaded to our website for registered users to access – once relevant permissions are gained.
We are proactively seeking funding to further develop student startup, consultancy and incubators.
Special thanks to:
Kollider, Barclays Eagle Labs, IBM, Twinkl Hive, and all the valuable mentors and speakers who dedicated their expertise.
This blog has been cross posted from the University of Sheffield Student Enterprise website. You can view the original here.