<

/

Welcoming new leadership to the Institute of Coding's boards

>

Through our advisory and governance structure, we are working with senior representatives from government, industry, outreach and education to respond to the UK's digital skills gap

The Institute of Coding (IoC) is delighted to welcome three new chairs to our oversight boards. They each bring a wealth of knowledge and experience to the IoC's leadership, helping to shape and guide our strategic direction and our ongoing response to the UK's digital skills gap.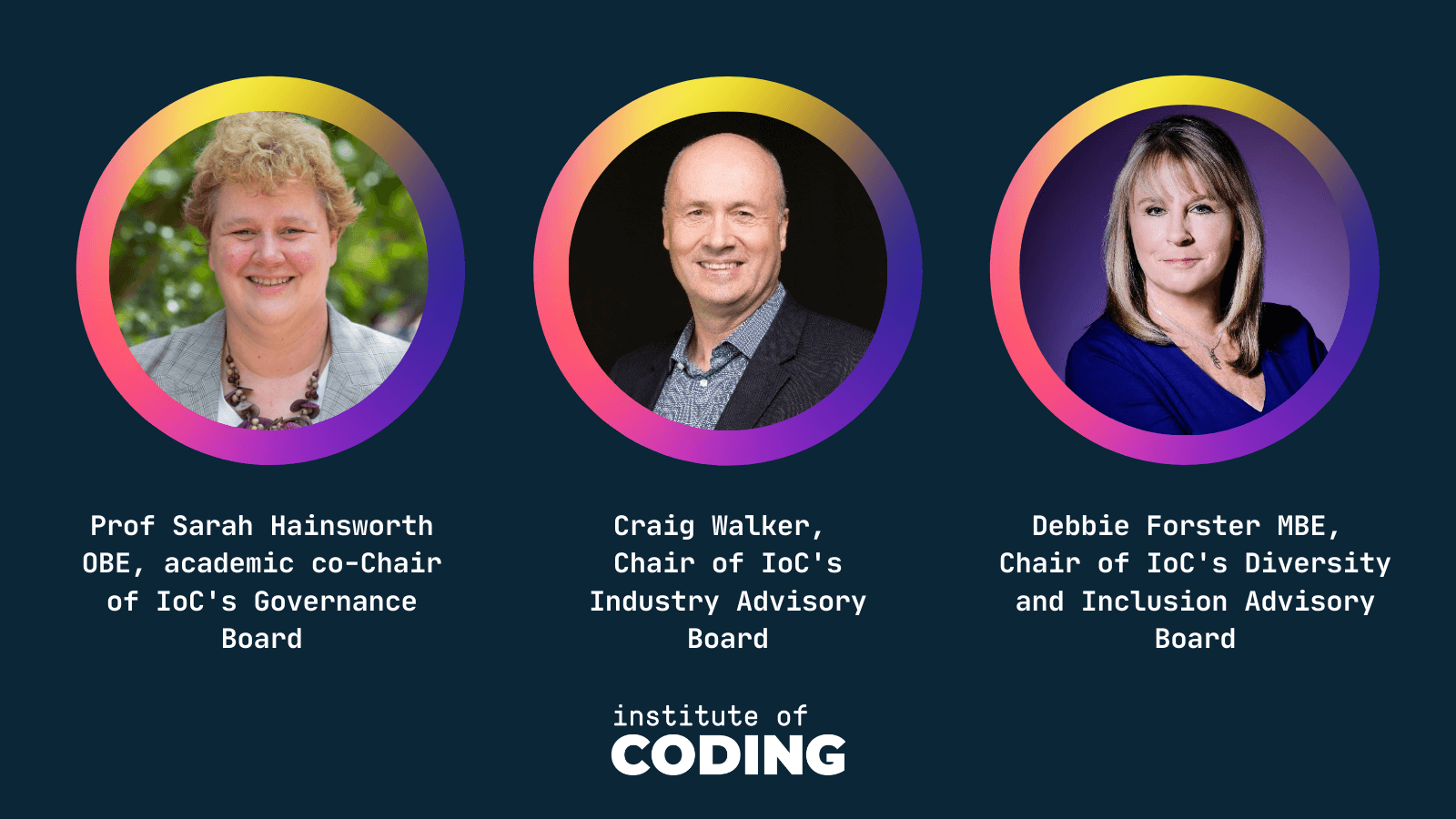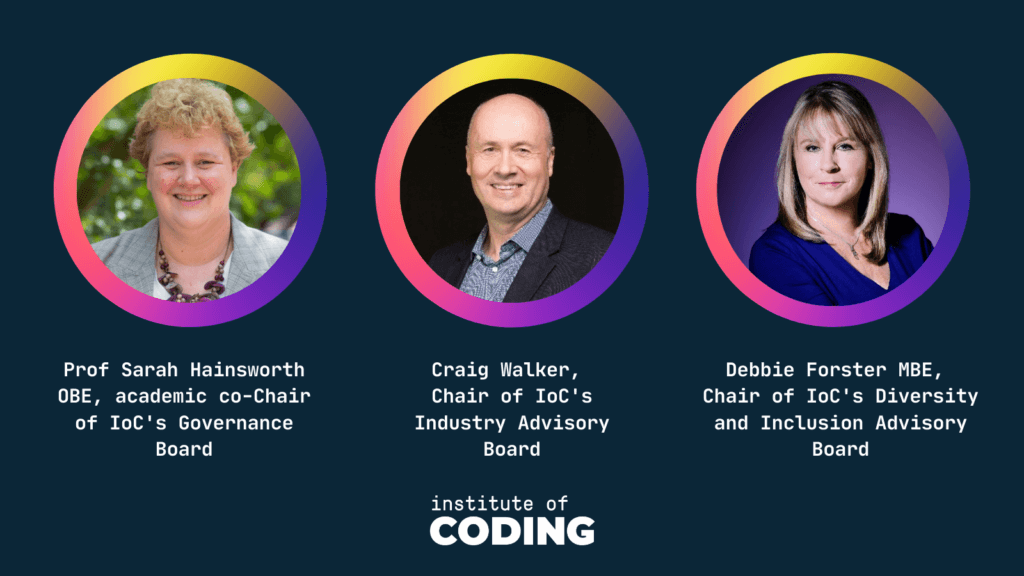 Professor Sarah Hainsworth OBE, FREng has joined industry co-Chair, Jacqueline de Rojas CBE as the academic co-Chair of the IoC's Governance Board. Sarah is the Pro-Vice-Chancellor (Research) at the University of Bath, a Principal Fellow of the Higher Education Academy and a Fellow of Royal Academy of Engineering. She was appointed an Officer of the Order of the British Empire (OBE) in the 2019 New Year's Honours List for services to Engineering and Forensic Science and has a long history of promoting opportunities for women in science and engineering.
Craig Walker is the new Chair of the IoC's Industry Advisory Board (IAB). Craig is a SVP and Strategic Customer Advisor in the Office of the CEO at Salesforce. With a degree in Chemical Engineering, and a career in IT, Craig has worked for KPMG Consulting and had three decades at Shell, rising to become the Global CIO for Shell Downstream. Craig has been a member of the IoC's IAB since 2018, bringing his extensive experience, industry perspective and commitment to inclusion to our work. He is focused on expanding both the diversity of, and skills development for, the UK's talent pipeline, which aligns with the IoC's national objectives.
Debbie Forster MBE has been a member of the IoC's Diversity and Inclusion Advisory Board (D&IAB) since 2018, helping the IoC to keep diversity and inclusion at the core of our work. As CEO of Tech Talent Charter and an influential figure in the areas of diversity, tech, innovation and education, we are delighted to have Debbie move into the role of Chair of the D&IAB. Debbie was awarded an MBE in January 2017 for "Services to Digital Technology and Tech Development" and Women in Science and Engineering (WISE) named her Woman of the Year 2016. Debbie has also been named on Computer Weekly's "25 Most Influential Women in UK IT" list for the last 5 years.
Thanking our outgoing leaders
We want to offer our sincere appreciation and thanks to our departing board chairs. Over the past three and a half years, they have played important roles in the IoC's growth and development, helping us to build a consortium that is transforming the way that higher education, industry and outreach organisations work together to deliver new digital skills courses and programmes that help a larger, more diverse, group of learners into tech careers.
As Deputy Vice-Chancellor and Provost at the University of Bath, Professor Bernie Morley (now retired) played a key role as academic co-Chair of the IoC's Governance Board from the IoC's launch in 2018. Close working between academia and industry is at the heart of the IoC and Bernie provided academic leadership to university partners across the consortium ensuring accountability and project direction and, along with Jacqueline de Rojas, strategic oversight of the IoC's development.  
Sheila Flavell CBE, COO of FDM Group and Deputy President of techUK, was appointed to chair the IoC's IAB in 2018. Sheila brought together leaders from some of the country's most influential businesses and industry organisations to provide the IoC with vital insight into the skills companies need and the areas of digital expertise in short supply. Sheila's leadership of the IAB was integral to the development of the IoC's Future Projects Fund, which provided £2.4-million in funding to projects which increased the volume and diversity of the tech talent pipeline.
Neil Milliken, VP – Global Head of Accessibility at Atos, was instrumental in the creation of the D&IAB board  in November 2018, drawing on his extensive experience and networks to provide strategic guidance on diversity and inclusion matters, particularly in education and early employment. Under Neil's leadership, the DIAB was influential in the development of the multi-award-winning CTRL Your Future marketing campaign, which successfully engaged learners from diverse and under-represented groups into digital and tech education.
We are grateful to Bernie, Sheila and Neil, for their outstanding contributions to the IoC and thank them for their leadership, insight, ideas, dedication and advocacy for the IoC.
The IoC's advisory and governance structure
The IoC consortium is co-developing new courses and activities that are helping a larger and more diverse group of learners into digital careers through higher education. Through this work, the IoC has cleared barriers and delivered collaboration between 35 universities and over 300 employers and outreach organisations to create courses and events enrolling over 900,000 learners to date, with impressive diversity.
The IoC is guided in its work by three advisory boards and a Governance Board, all of which include senior representatives from government, industry and academia. Looking forward, the IoC will continue to work in close partnership with our boards to ensure our strategic response to the digital skills gap is employer-focused, with diversity and inclusion at its core.