<

/

A day of #DigitalRoleModels: how our Digital Women event helped participants pave new pathways to tech

>

The Institute of Coding (IoC), a national government supported initiative designed to respond to the UK's digital skills gap, welcomed nearly 400 delegates to the Digital Women online event in August. The event, which was led by the IoC team at Manchester Metropolitan University, provided an opportunity for women to discover career pathways in the digital sector and speak to industry and higher education experts.

With an opening keynote from Sonya Barlow from Like Minded Females (LMF), and more than 25 speakers from TechUPWomen, The Global Equality Collective (GEC) and many more of our university and industry partners, the event was full of practical advice on how to start or continue your journey into tech through higher education.
#DigitalRoleModels – an event recap
In her opening keynote, Sonya Barlow imparted three key lessons she stumbled upon when beginning her network, LMF. Sonia's network provides digital role models and mentors to women who need support, guidance and encouragement to begin their careers in tech. Check out her keynote to learn more.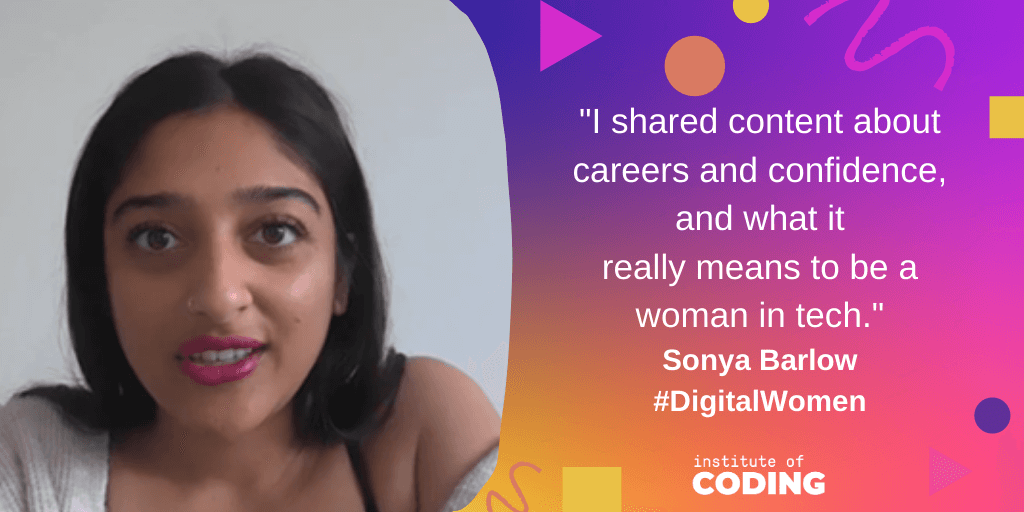 The need for and importance of digital role models was a running theme throughout the day, with the majority of sessions showcasing the stories behind inspiring women's journeys into tech, their experiences and advice on how to progress.
For example, in one of the sessions, The GEC Collective panel spoke about the digital gender gap in business and education, and their personal experiences within the digital sector. The group addressed how students can have self-doubt and anxiety about their skills and ideas. To overcome this, the GEC Collective have developed STEM-support groups to provide students with mentors, coaching and a safe space to talk through their concerns. The GEC women looked back on their career learnings and encouraged listeners to be bold and brave, as there are often others who are willing to help and offer advice. Listen to their panel here.
In her session, Anna Brailsford, the CEO of Code First: Girls, explored the inhibitors or barriers for women entering the tech industry and had delegates vote on whether statements regarding women in tech were true or false. Delegates correctly identified that only 17% of tech workers are women, only 1% of money invested in the UK is given to female founders, and that culture confidence, lack of role models and education are some of the biggest factors that stop women from starting in tech.  Listen to Anna's talk here.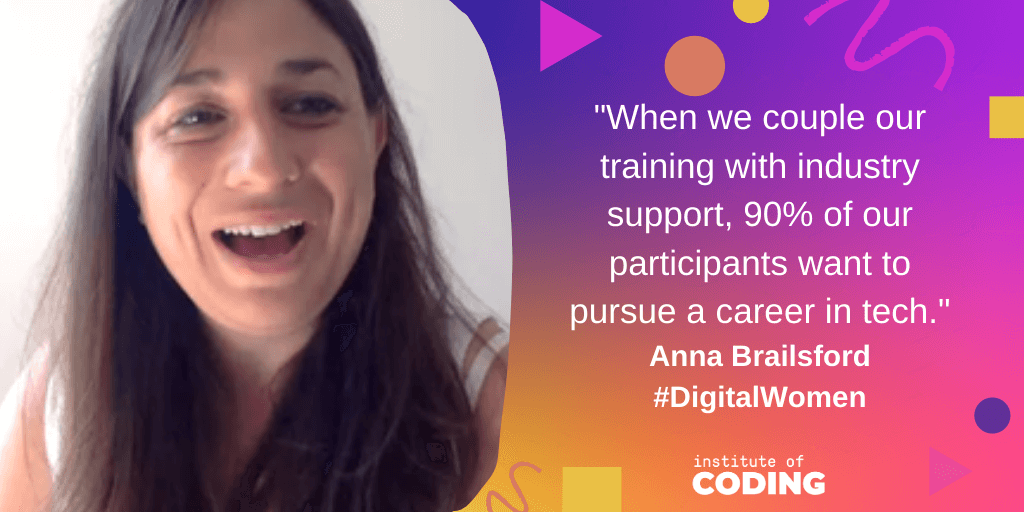 Throughout the day, past and present Computer Science students talked about their journeys into tech and why they decided to choose the subject. Reflecting on the opportunities for women in the tech sector, Emma James talked about her career journey and her personal experiences in the tech sector. After falling in love with coding during her placement year at university, Emma decided she was passionate about software and got a job at Google as a software engineer. Networking was a key part of her journey, and she urged listeners to join or create a community if they don't know where to begin their pathway into tech. Listen to Emma's talk here.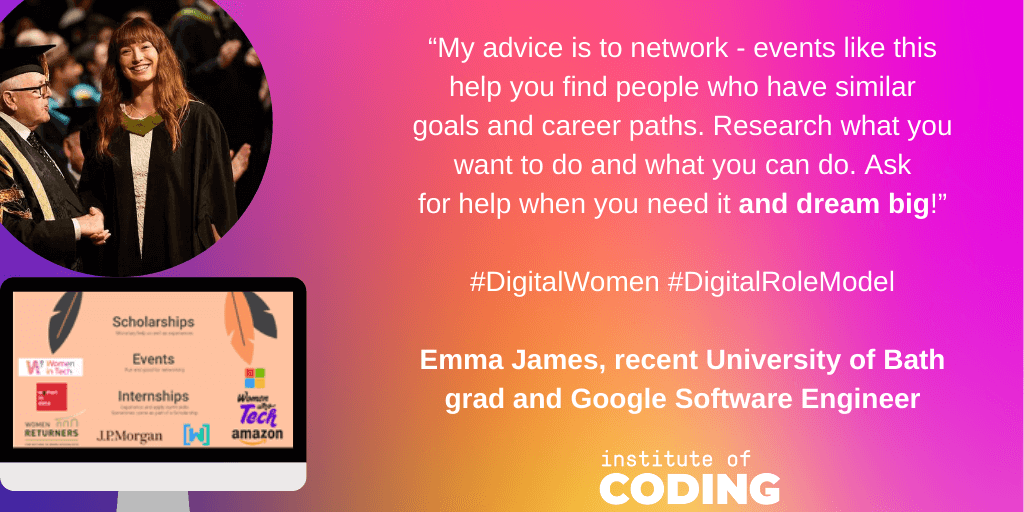 TechUPWomen ended the day on a high note, with a panel discussion with four TechUP participants about their personal journeys into tech. A clear theme to the session is that you don't need to come from a tech background to start learning digital skills. There are courses and pathways available to people at all levels.  Listen to the panel discussion here.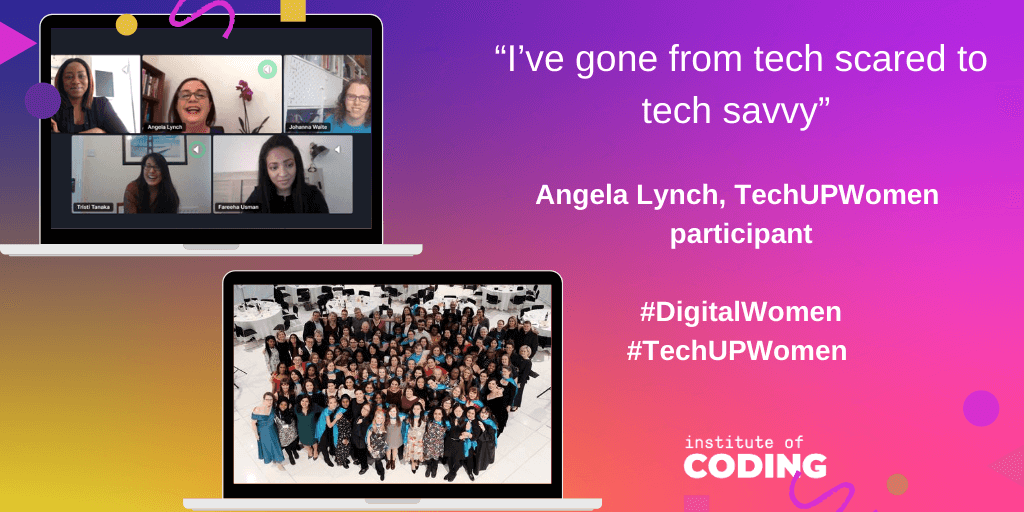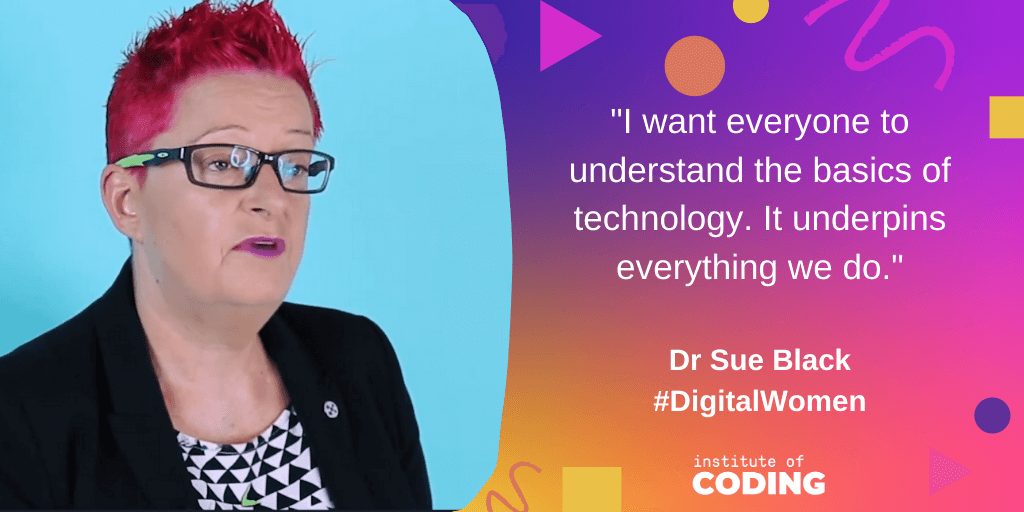 These are just a few of the many highlights from the day. To watch all of the Digital Women sessions, please visit the IoC Digital Women YouTube page.
To find out more about IoC at Manchester Metropolitan University and their schedule of upcoming forums and events, email ioc@mmu.ac.uk.
To start your journey into tech, visit the IoC's course catalogue to view 200+ digital skills courses, many of which are online and some are available free of cost.