<

/

CTRL Your Future: Do Good with Digital

>
Young womxn from across the UK collaborate to create change-making digital solutions.
Digital skills are needed now more than ever. During a pandemic that has completely changed the role of digital in our working lives, Sisterhood and the Institute of Coding (IoC) wanted to provide young womxn with a free virtual workshop, where every participant could take on the challenge to make the world a better place through digital.
Using different platforms and programmes to help facilitate creative and collaborative experiences, the Do Good with Digital event brought together almost 40 young womxn aged 16-17 to create digital solutions to the question: If you could use digital to make the world a better place, what would you create?
The need for more womxn in digital
The tech industry is about forward thinking and innovative behaviour, but only 16% of IT workers are women and just 11% of Directors come from a BAME background. Considering these statistics, the overarching aim of this event was to encourage a broader and more diverse group of young people to sign up to digital skills courses at higher education level and enter the digital sector.
Tech jobs are also often perceived as boring or stale. But with 82% of all job openings now requesting digital skills [1], we wanted to show young people how digital skills can be used for positive and creative change. By partnering with the IoC, we were able to highlight innovative ways to use digital, and the many different potential pathways to digital careers.
[1] Gov UK, Current and Future Demand for Digital Skills in the Workplace (2019)
The power of partnerships
The create-a-thon launched on the Friday afternoon where participants logged on to meet each other and received a warm welcome by Rachid Hourizi (Director of the IoC). As a large national consortium of educators, employers, the IoC is committed to co-developing new courses and activities that will help a larger and more diverse group of learners into digital careers. Their mission is focused on providing a fresh and disruptive approach to digital learning, keeping the focus on diversity and inclusion.
"This digital 'create-a-thon' provided an exciting opportunity to explore how technology can make positive changes in the world. We wanted to inspire diverse young innovators to start their digital skills journeys through higher education and discover how digital can help them achieve their ambitions."

Rachid Hourizi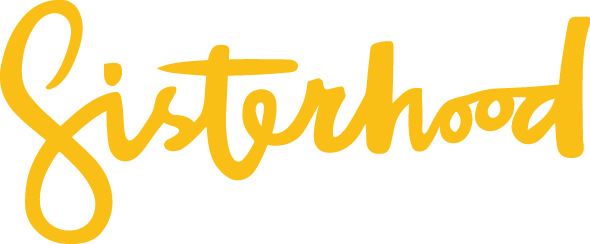 Leading the day's activities was Sisterhood, a social enterprise that raises awareness and develops a personal understanding of the positive impact being a confident young girl or womxn can make on her future success.
Sisterhood provides creative design programmes where all girls aged 13-17 can design their place in the world. From their work with young women all across the country, they know how important it is to empower their voices and encourage them to be a part of the industries that are shaping tomorrow's world.
How did it work?
Meet the mentors
Our incredible line-up of mentors teamed up with the participants to support them through the creative process from concept to creation. The mentors' skills spanned from coding, AI, digital marketing, UX/UI, strategy and more. Each also had ambitions of helping to create a diverse digital space. Most of all, they acted as incredible examples of what is possible to achieve when you pursue a digital career.
The Design Toolkit
Every participant received a surprise toolkit, which included a creative workbook with tools and techniques to help every team with problem-solving, idea-generating and prototyping. We wanted to provide all of the participants with an offline tool which they could use beyond the programme to plan and draft ideas and projects.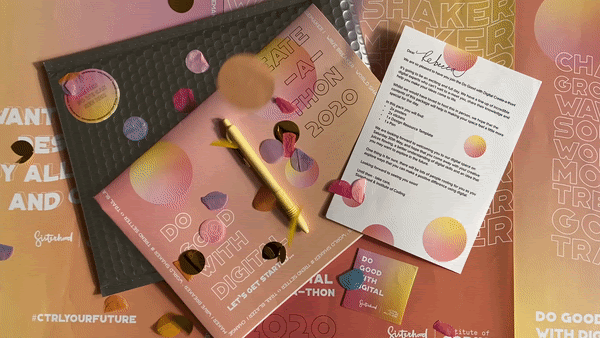 Creative Sprints – 32 girls. 8 Mentors. 1 Day. 7 Change-making digital solutions.
Participants worked together in their teams alongside a digital mentor who was there to help guide and inspire them throughout the process. Our tech host ensured all participants were able to access the programmes and join the virtual briefings delivered by Sisterhood.
The day was split up into two creative 'sprints', in order for the teams to focus closely on their solutions. In the morning, every team discovered and defined the problem that they would address and dove deep into the problem to outline user needs, wants and the overall vision of the solution.
We also had the incredible opportunity to hear from Shilpa Shah from Deloitte, who is an IoC Board Member. Shilpa gave some great advice to the participants to "fall in love with the problem, and not the solution," so they could become experts in the issues they wanted to address.
"It's brilliant to see a collaboration with Sisterhood that shares a clear vision to inspire a more diverse mix of young people (especially girls!) into the digital spaces. The event and inventions really showcased the trailblazing women already smashing barriers in the industry and how inspiring more young women into tech can help build a more inclusive industry for the future."

Shilpa Shah
In the afternoon, the second creative sprint was devoted to developing and delivering prototypes that would best communicate their solution. Every mentor provided 1-1 training and support with prototyping solutions to their identified issues. In a matter of minutes, we saw wireframes being assembled and branding being conceptualised. The energy within each group was electric as they worked towards the deadline of creating social change in under one day.
Taking turns, each team presented their projects and ideas to the entire group and a panel of expert judges. We saw the participants create solutions that addressed everything from mental health and tracking fair pay, to creating better support systems for girls as they progress in their life. The projects prototyped digital solutions such as websites, apps, chat bots to data tracking.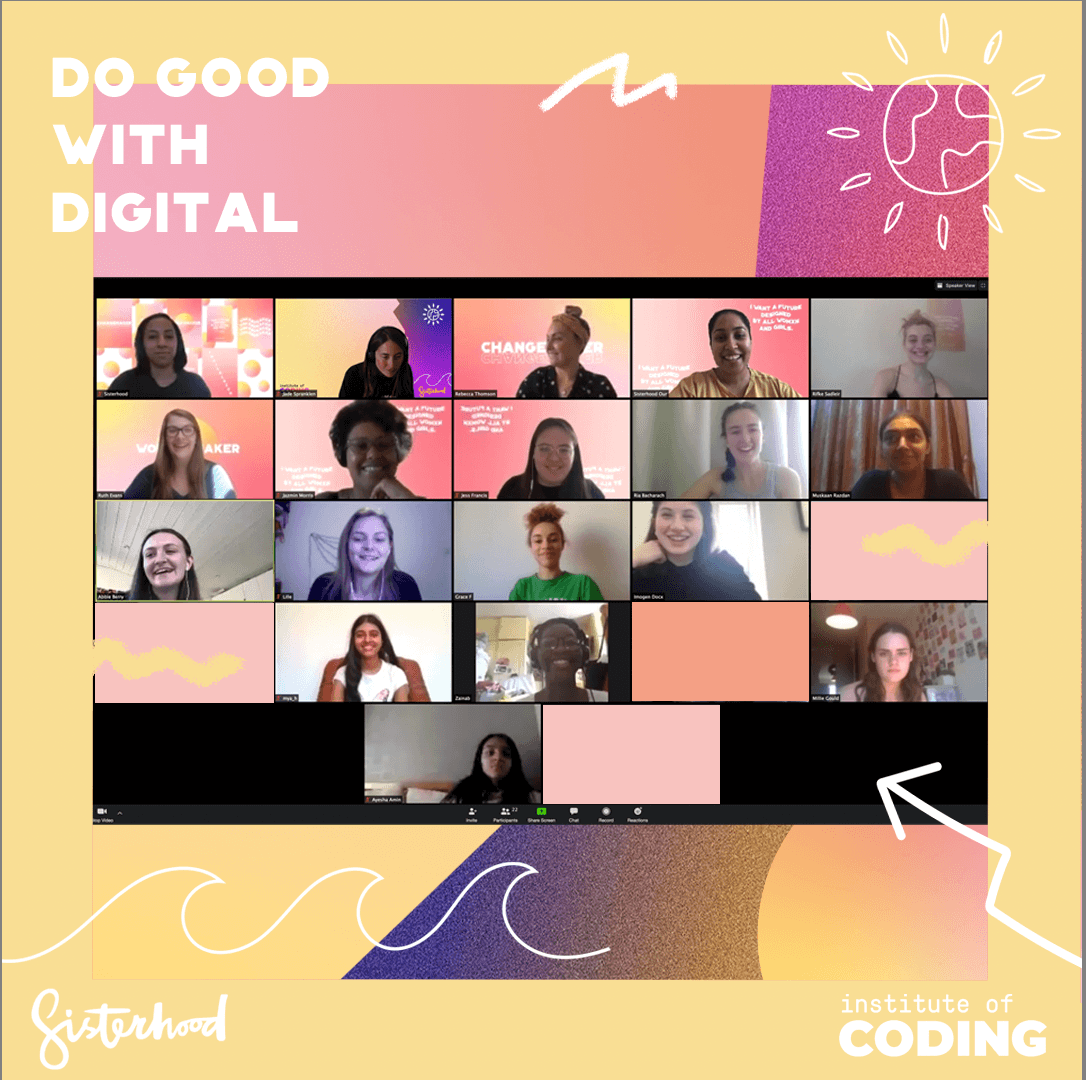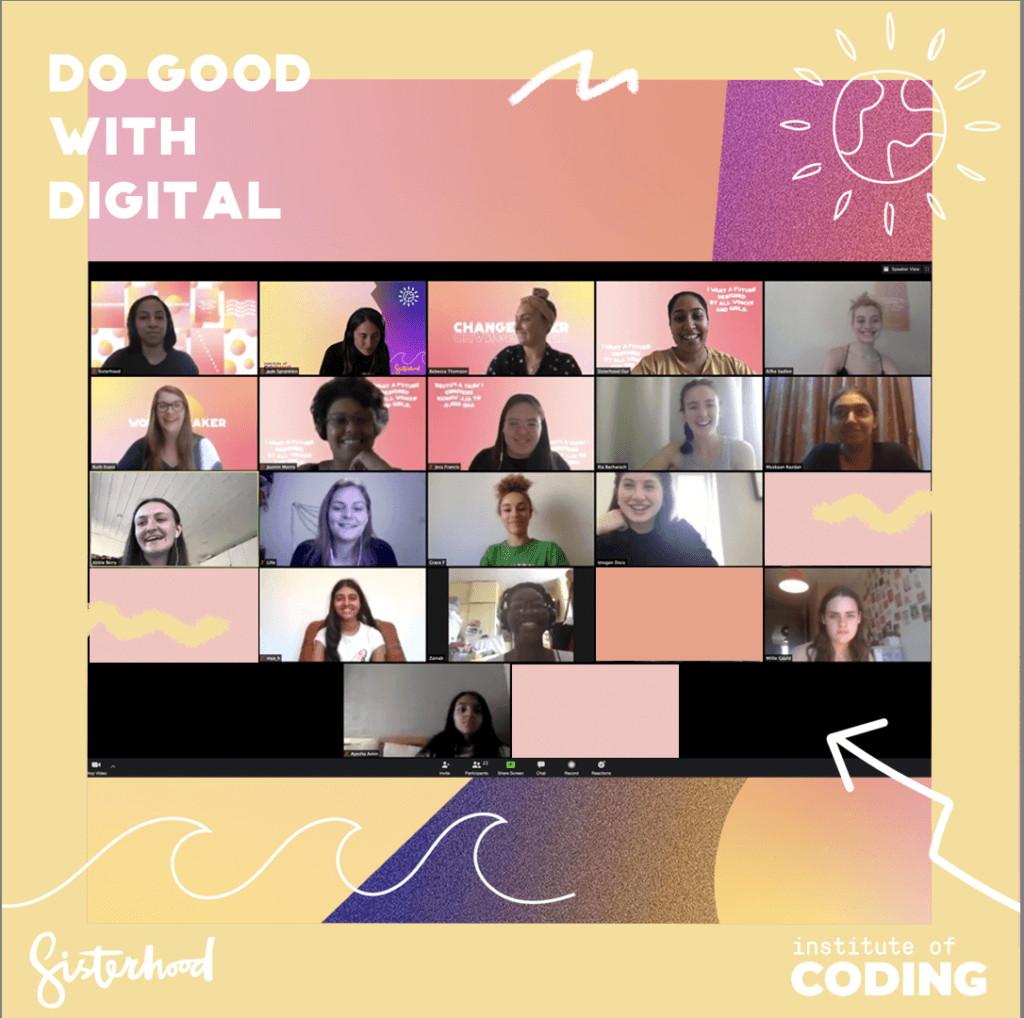 Meet the changemakers
After the event we caught up with some of the participants to reflect on the day and to hear all about their future plans and goals:
"I think my favourite part was the brainstorming sessions where I was able to come up with new ideas. I've had to generate ideas before, but this session had a simple format to help create useful ideas which I can then use again in the future."

Zainab – Aspiring Games Developer
"I really enjoyed collaborating with my group to bring our idea to life. I also really enjoyed doing the '5 whys' – I thought it was a really cool way to delve deeper into issues and is definitely something I will use again in the future.

"It was amazing to be in such a constructive environment. It has given me confidence in my ideas and to develop them further. It was also so inspiring to be working with so many amazing women and girls and to really feel the empowerment."

Abigael
"When we were using Mural it allowed me to voice my opinion on what I thought needed to be changed. The designing stage was very fun and it was independent which I personally enjoy because I can get on with things and it's a good feeling to bring your ideas to life and to see it all put together with your team.

"One thing I've taken away from the workshop is that it's possible to bring my ideas to life and it's possible for girls my age to be part of the digital industry."

Ayesha
"My favourite part of the day was being able to put our ideas into an amazing digital invention; I also really liked my digital mentor (she was very helpful and really tried to make us as comfortable as possible) and the girls in my group :)"

Ellie
Get involved: Design your own digital invention.
If you missed out on this opportunity, you can create your own digital prototypes using this resource pack which will take you through the creative process so you can also create a positive change for your community.
To find out how digital skills can be used for positive change and the potential pathways to digital careers, visit: www.instituteofcoding.org/ctrl-your-future